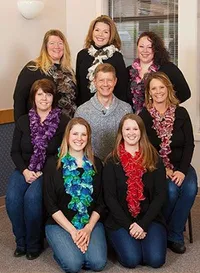 GREAT DENTAL CARE BEGINS WITH GREAT DENTAL PROFESSIONALS
Our top priority at Olympia Prosthodontics & Cosmetic Dentistry is to be the one and only source for dental health care for you and your family. From the moment you walk in the front door of our office, the staff at Olympia will prove to you that this is not your typical dental practice. Dr. Robert Stover's vision was to build an exceptional team of dedicated, caring professionals committed to your good health and great smile. Your concerns and goals are our top priority and we strive to make every aspect of your experience with us a pleasant one. Thank you for choosing us as your dental care team.
LEARN MORE ABOUT US
OUR OFFICE – OUR HOME AWAY FROM HOME
At Olympia Prosthodontics and Cosmetic Dentistry we are dedicated to providing truly exceptional dental care in a comfortable, caring environment. We demonstrate respect for our patients and each other by practicing the highest level of personal honesty and integrity. We understand that the dynamic between you, your family and your Olympia dentist is important. Our number one goal is to provide you with the highest quality dental care to be found anywhere, and to do so in an environment that makes you and your family feel safe and relaxed.
THE JOURNEY TO A HEALTHY SMILE
At Olympia Prosthodontics & Cosmetic Dentistry, we offer a full range of oral health care services. With an emphasis on preventative services such as cleaning, polishing and the use of sealants to prevent tooth decay, we'll get the health care of your family off to a great start. However, we are prepared to help you with any dental need you might encounter – from crowns and fillings to tooth replacement and oral surgery. Our highly trained staff will make your visit, regardless of the procedure, an easy and enjoyable experience.